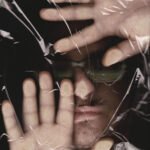 I started Analogue Artefacts as a conceptual project to rekindle my passion for analog photography and to explore creative processes, experimental image making, and classic photography.
I am a photographer based in Sweden and mainly work with people photography, both with private and corporate clients, as well as product shots.
Though I've been a digital photographer since 2004, I haven't entirely abandoned the analog world. In my private photography, I prefer to shoot film.
Non-commercially, I do mostly art photography, primarily with analog cameras, but sometimes I also work on heavy digital editing and video sequences.
My art work mainly consists of classic black and white cityscapes, abstracts with a multiple exposure technique, and minimalistic architecture. Also, I do old alternative processes and sometimes I invent new ones.
Aside from my professional photography work, I have always created images and developed artistic ideas, but did not quite know in what context this work would be presented. As a result, there have been many images left in the drawer. My Instagram project got me started, but I wasn't completely satisfied.
Now, with the NFT revolution, my images have a whole new purpose. It's exciting to know that there is a whole new ecosystem for artists out there. My interest in finishing my many projects I had only in my head has been greatly sparked by this.